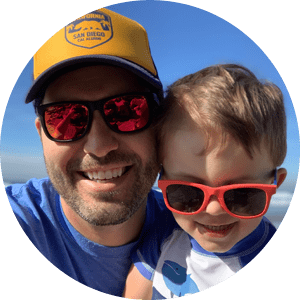 Want to know where the LOCALS LOVE to hang out? We asked 
Chad Smith

, San Diego native, realtor and surfer, for his recommendations.
Why do you love San Diego?
Because it has all the benefits of living in a big city, but it maintains a small-town atmosphere in many ways. San Diego is broken up into fairly distinct neighborhoods with their own vibe and culture. OB and PB are close together but can be very different when it comes to nightlife, restaurants, shopping, and the overall culture. I am from San Diego and grew up here, and even though I have moved away a few times, I've always come back home.
What neighborhood do your live in currently?
Torrey Highlands
What are your favorite things to do when family or friends visit from out of town?
It's great to be a tourist in your own town sometimes, so I'll take guests on a tour of the beaches, the zoo, walk around Downtown or Northpark, it depends on who is visiting and what they are in to. There is so much to do here, so whoever visits will find something that interests them.
What's your favorite 'date night' or special occasion restaurant / place?
Since having a few kids 'date nights' are rare, but when we get the chance we like to go out and see the town. The Gaslamp quarter is always changing and it's fun to try new places. But we also like to go see a show if we can, a concert at The Music Box, or just find a favorite restaurant in a neighborhood we haven't visited in a while
What's a perfect Saturday in San Diego to you?
Start with a cup of coffee and a donut, then take the family to the beach a few hours and maybe even grab a few waves if the surf is good. Follow that up with a burrito for lunch, put the kids down for a nap and relax a little myself. Then try to get together with some friends or family in the afternoon/evening for dinner or just for a visit. But a lot of that depends on the time of year too, I love going to Padre games when I can, or spending a few hours at the Safari Park, or taking the trolley to Little Italy or any neighborhood that is hosting a farmers market.
Current Gig
I am a Real Estate Agent with Windermere Homes & Estates. I grew up in San Diego so I comfortable working in any area of San Diego County. I also work with first-time buyers a lot and like helping young couples get through the tricky process of buying a home. You can reach me at chadsmith@windermere.com or on Facebook at facebook.com/ChadSmithRealtor/